Conservatories and energy efficiency

A well-designed conservatory can be incredibly energy efficient – improving the level of comfort in your home, helping you save on your monthly energy bill and offering environmental benefits all year round.
A buffer zone for your home
Adding a conservatory to your home can help reduce your overall energy use by creating a 'buffer zone' between indoor and outdoor living areas.
Any heat that escapes through your home's walls into the conservatory will help create a warm space on colder days.
That's not all, the captured heat can then re-heat the main building on cold days when the doors between your home and the conservatory are opened.
This buffer effect of storing naturally produced heat is an easy way to be environmentally responsible and save on your energy bill.
Improved thermal efficiency
A conservatory can be designed with varying degrees of thermal efficiency. When planning your conservatory, talk to your local GGF Member about the following:
– External quality double glazed doors between your home and the conservatory can provide added thermal performance and security
– Low-emissivity coatings on the inside face of double glazed windows can reduce heat loss from radiators inside the structure. This is strongly recommended for north-facing conservatories.
– Solar control layers can control glare and the amount of the sun's energy that is transferred into the living space. This is specifically recommended for south-facing conservatories.
– Heating appliances with their own thermostatic controls will allow you to separately control the conservatory's temperature.
– Designing in natural ventilation such as trickle ventilators, top opening windows or roof vents is far more economical (and environmentally friendly) than air conditioning.
Green credentials of a typical conservatory
The materials typically used to build a conservatory feature a large percentage of recycled material. In addition, the key materials used within your conservatory are all recyclable at the end of the conservatory's life.
– Aluminium (this can be the conservatory itself or its structural elements) is recyclable with up to 95% being reused.
– PVC-U profiles used in the side frames are 100% recyclable and can be reused numerous times.
– Timber can be fully recycled, and must be responsibly sourced.
– Glass is 100% recyclable.
Related topics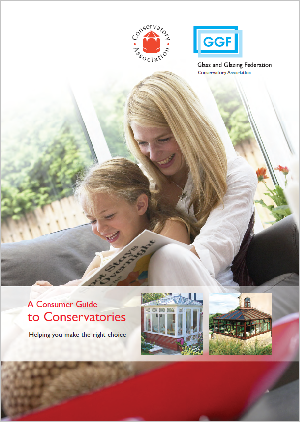 For more information on conservatories download our free brochure.
Talk to your local GGF Member company
For more advice on planning a conservatory that meets your energy efficiency needs, get in touch with your local GGF Member company.