How to choose roof windows for your home
Roof windows come in a variety of styles, materials and options. Here's our advice for choosing the right ones for your home.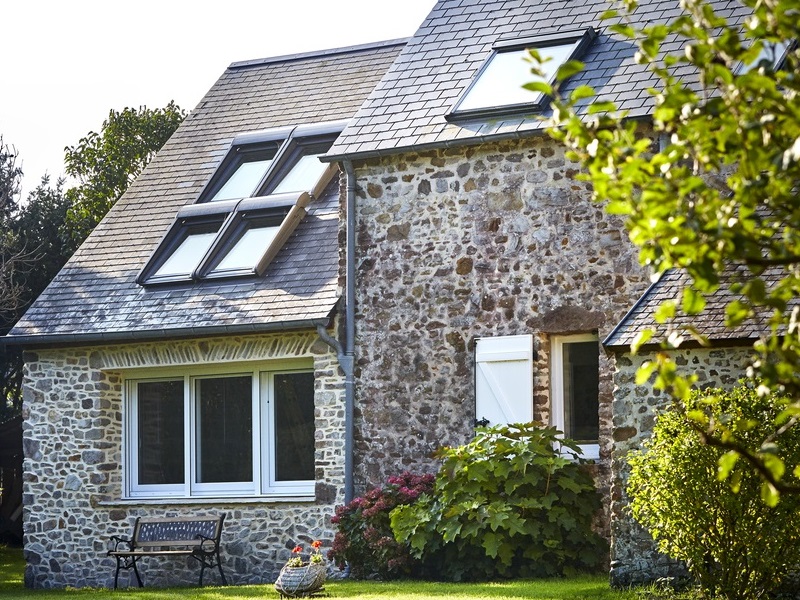 Fixed or opening roof windows
When choosing roof windows for your home, you'll have the option to have a window that is in plane (aligned with the roof) or out of plane (not flush with the roof).
You'll also need to decide between an opening or fixed roof window. Some designs can completely open, and others will partially open. If ventilation or roof access is a priority, an opening roof window may be your preference.
There are many different options to choose from between fixed and opening roof windows, including options with security features like partial opening locks. If you're unsure on whether or not to choose fixed or opening roof windows contact a professional company for a consultation.
Frame materials
As with other types of window, roof windows are available in a wide range of frame materials including PVCu, timber, aluminium and steel.
Certain properties lean towards certain materials more than others, and in some instances planning permission for a particular building may only allow a certain material or type of roof window to be installed.
Metals like steel or aluminium are one choice for a modern home, big airy barn conversations, or period properties. Wood and timber have always been a popular choice visually, but maintenance can be tricky when you have to get onto the roof to get it done.
A good compromise is a timber-aluminium composite which looks like wood but is much lower maintenance. PVCu is of course incredibly durable and long lasting.
Glazing options
As with other types of windows there are several glazing options available for roof windows. Finding the right choice for your home will depend on many factors, however we've highlighted some key things to consider when making your decision.
Energy efficiency
Manufacturers will always offer you double glazed roof windows as they perform at an industry accepted level providing light and energy efficiency.
Energy efficient double glazing uses two panes of glass, sometimes with a gas injected into the gap between the two panes, and a Low-E coating which helps to invite the sunlight in, while also trapping heat inside the home.
Triple glazing is something you could consider if you wanted to invest more money because it offers that bit more comfort than double glazing, and may just give your property the edge if you're looking to show off your energy efficiency ratings to potential buyers. Triple glazing differs from double glazing in that it uses three panes of glass instead of two.
Thermal efficiency
Roof windows are commonly used on the top of the house as they are susceptible to getting a lot of direct sunlight, so could potentially make a loft living area uncomfortable.
Solar control glass is an option which takes the heat from the sun and reflects it away during summer, to keep the home cooler and make it more comfortable.
Privacy
Tinted glass will increase privacy and reduces glare, but it can also decrease the amount of light able to come into the house.
Maintenance
Self-cleaning glass can be an attractive option for homes that don't have easy access to their roof windows. This type of glass reacts to the light shining on it, breaking down debris and dirt to make it easier to be washed away by the rain.
Safety
Laminated safety glass as an option for the inner pane of the glass sealed unit ensures that fragments are held together if the glass were to break. This option is always recommended for bedrooms and children's rooms.
Some extra notes on glazing
It is important to remember that some roof windows may combine several of these options. For example, one roof window may be tinted, toughened and self-cleaning, so you won't always have to choose between features.
It is also a good idea to bear in mind that roof windows are rated under the BFRC energy rating scheme. This scheme rates the entire window on its energy efficiency from A to G with A being the most energy efficient and G being the least.
U-Values are also important and grade windows on how much heat they let out, so the lower the U-value, the better.
Extra accessories
If you choose a roof window that opens there are several accessories to consider including locking systems for child safety and manual and remote control opening options.
Remote control options might be a consideration for windows that are out of reach, or that aren't easy to reach.
Roof windows – expert advice
Before you choose roof windows for your home, make sure you've asked yourself each of these questions.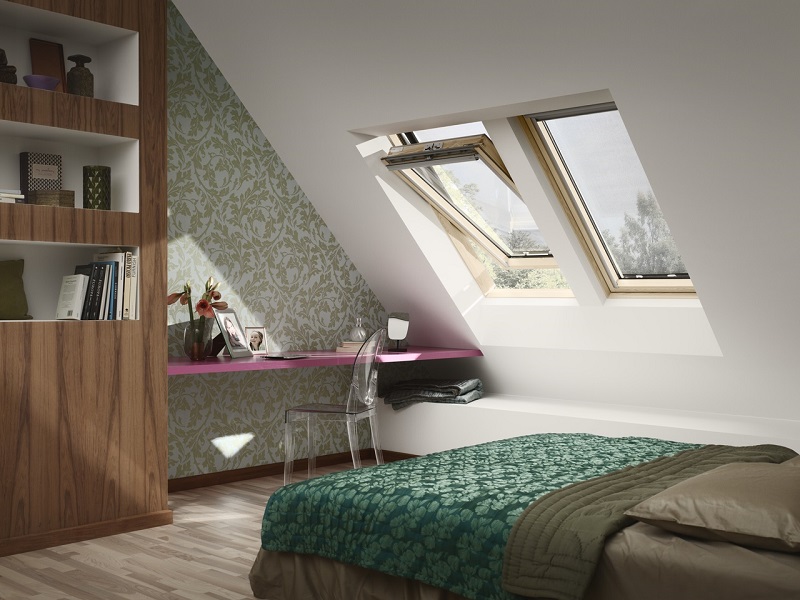 Do you need your roof windows to open?
Your primary consideration will be whether or not to opt for a fixed or opening roof window. A fixed window cannot be opened at all, whereas opening windows come with a variety of options including a full or partial opening.
Clever options like child locking, remote control opening and closing, plus weather sensors are all additional extras you could have with an opening roof window. Ventilation is another great benefit of an opening roof window.
Where do you want to place the windows?
Where you place your roof windows matters. The position of the roof window will make a big difference to how much light gets into the room.
North-facing roof windows tend to provide a less heat driven, consistent light, whereas east-facing windows get the most light and heat at the beginning of the day.
South-facing roofs get the best levels of heat during the winter months, but this holds true in summer too which should be kept in mind when considering thermal comfort.
It is also important to consider the obstacles that may affect the placement of your windows such as wiring or structural beams.
What size do you want?
The size of your window is crucial and will affect things like light levels, room temperature in the room it is being fitted, and possible ventilation levels.
Bigger is not always better, and the right small roof window could bring you just as much constant light as a bigger window.
Is roof access a priority?
A roof window with roof access can provide a safe and quick way to access your property's roof, as well as acting as an emergency exit.
Have you considered ventilation?
Ventilation always matters with windows, regardless of where they are. If you choose a fixed window, don't forget that you'll need a source of ventilation elsewhere in the room.
Otherwise you may find odours become trapped and condensation could occur.
Seek the advice of glazing professionals
No matter how much research you do, it is useful to seek an experienced glazing professional for advice and a quote based on your property's specifics.
The quote they give will be detailed, and their advice should help you understand where you could install roof windows and the different types of windows available to you.
We recommend seeking quotes from at least three companies so you may compare these and make an informed decision.