List your business on MyGlazing.com
Join the GGF to connect with consumers on MyGlazing.com and enjoy the unrivalled support of the glazing industry's leading authority

MyGlazing.com was designed by the Glass and Glazing Federation (GGF) to help consumers make the right choice for their homes. It achieves this by providing advice, information and inspiration – plus a simple way to find local GGF Member companies.
If your company sells direct to consumers, a listing on MyGlazing.com will give you exposure to an audience of homeowners actively looking for glazing products and services for their home improvements.
That's not the only benefit of joining the GGF, however, as membership in the glass and glazing industry's leading trade organisation will give you access to significant technical, marketing, political and business support.
The GGF: a brand consumers trust
When consumers see the GGF logo associated with a business, they know they are dealing with a company they can trust.
All GGF Member companies who sell to consumers abide by the GGF Consumer Code of Practice, as well as offering free automatic deposit protection and access to our Conciliation Scheme should the need arise.
This unrivalled consumer protection, together with the GGF's strict vetting of Members, means homeowners can be confident that when they deal with a GGF Member company they will receive service and support of the highest quality.
GGF Member benefits at a glance
In addition to gaining a presence for your business on MyGlazing.com, membership in the GGF delivers a wide range of benefits for your company, including:
Use of the GGF logo
Free technical advice from the GGF Technical Team
Exclusive Member IBG rate of £10.95 for window jobs up to £25K
Input into technical standards
Access to all GGF technical publications
Access to regular Specialist Group and GGF events
Political representation through the GGF's lobbying activities
Free contractual advice
Advice on training and discounts on selected training courses
Subscription to Glassi digital magazine and GGF Newswire for latest industry news
Learn more about joining the GGF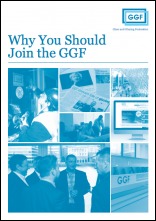 You can read about all the benefits of joining the GGF, as well as the criteria for membership, in our brochure Why You Should Join the GGF. Contact us today via the form below and we'll send you a free copy.